Celebrations of love and commitment like weddings provide an opportunity to share our deepest feelings and best wishes with the happy couple. It's crucial to find the proper words to express your thoughts and feelings on this wonderful day, whether you're a close friend, family member, or acquaintance of the couple.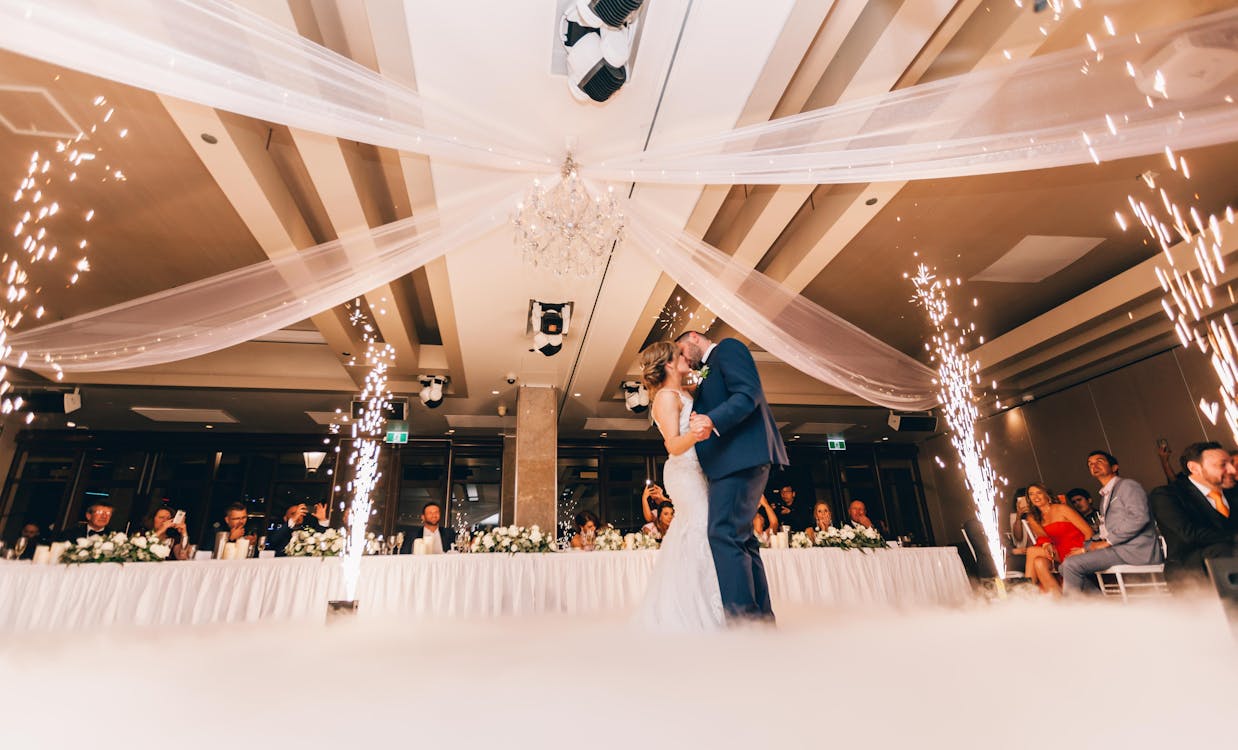 In this article, we'll look at some unique and touching wedding messages that you may use to celebrate the newlyweds and add a personal touch to their big day. We'll give you a variety of ideas and examples, from the classic and heartfelt to the humorous and lighthearted, so that you may write a card that perfectly captures your personality and the couple.
So, this article is the perfect resource for you whether you're seeking ideas for your wedding message or you simply want to learn more about how to convey your love and support for others. Come with me as we plunge into the sea of wedding wishes.
What Is A Good Wedding Message?
A good wedding message that you can also write in wedding card comes from the heart and reflects your sincere congratulations and well wishes to the happy couple on their special day. When writing a wedding message on a card, you have limited space to convey your thoughts and feelings. Here are some tips for creating a good wedding message in a card:
Keep It Short And Sweet
To set the tone and express your genuine joy for the newlyweds, it is best to begin your wedding message with a heartfelt greeting. To start your message in a warm and welcoming manner, and to show direct recognition for the pair, try using a greeting.
Use the couple's names or a term of endearment if you know them well enough to use it in a greeting. You may address the happy couple as "Dear" or "To my dearest" to set the tone for your greeting.
Beginning with a kind greeting shows the happy couple that you care about them and want to share in their celebration. It's a simple approach to express your care and sets the tone for the rest of your communication.
Start With A Greeting
Sending a heartfelt greeting to the happy couple at the outset of your wedding message is a terrific way to set the tone and convey your emotions. You can show the couple some love and appreciation right off the bat by starting your message with a warm and sincere greeting.
Use one of their names or a term of endearment to show how close you are to the pair in your greeting. You can address the happy couple as "Dear [Names of the Bride and Groom]" or "To my dearest [Bride/Groom]."
The best way to start a toast is by wishing the happy couple a warm welcome and expressing your delight on their wedding day. It's a little gesture of affection that can go a long way toward setting the tone for your message.
Express Your Congratulations
The best wedding messages include heartfelt expressions of congratulations. It's a great way to celebrate the happy couple and express your best wishes on their wedding day.
You don't need to go overboard with your congrats; simply stating "Congratulations!" or "Congratulations on your wedding day!" can do the trick. Personalize it by writing a short note to the newlyweds or entering their names. Congrats to the happy couple, [Last Name], on the beginning of your wonderful life together!
By congratulating the couple, you're letting them know that you share their joy and anticipation for this special day. It's a small gesture that will mean a lot to the happy couple and will show them how much they are valued and enjoyed on their special day.
Share A Personal Message
Including a personal remark in your wedding message is a terrific approach to making your good wishes more memorable for the happy couple. Here's your time to let the happy couple know how much they mean to you in a way that's special and meaningful to you and only you.
You may want to take into account the following when composing a private message:
Tell the pair about a special moment you shared.

Describe the qualities of the couple and their relationship that you find most endearing.

Provide some sage counsel on how to make your marriage successful.

You should tell the pair how much you appreciate them being in your life.
It's important to maintain your message upbeat and encouraging, free of criticism. Your heartfelt letter should express your joy for the happy couple and their love for one another on this special day.
You may make the newlyweds feel even more loved and supported by their friends and family by sending them a heartfelt letter on their special day. It's a sweet gesture that will make your wedding greeting even more special for the happy couple.
Offer Your Support
Provide a statement of support if you're able to make it, as this is an essential component of any wedding message. It's a great way to show the happy couple your support as they start their new life together.
If you want to keep things simple when showing your support, you may say something like, "I'm here for you if you ever need anything." More specifically, you may offer assistance with their wedding preparations, relocation, or anything else they might require.
Sending the happy couple your best wishes and expressions of excitement for their future is also a great gesture. You may say something like, "I'm excited to watch your love story develop" or "I can't wait to see all the fantastic things you'll do together."
By promising to be there for the newlyweds through thick and thin, you're showing them that you care about them and are eager to stand by them as they start their new life together. It's a wonderful opportunity to prove to the couple that they can rely on you no matter what comes up in their lives.
End With A Warm Closing
To finish off your wedding message and leave the newlyweds with a nice and memorable impression, a heartfelt closure is a terrific way to go. Depending on your relationship with the happy couple, a heartfelt ending could range from a simple "Congratulations again!" to something much more elaborate.
When choosing a warm closing, consider the following ideas:
End with a heartfelt expression of love, such as "Sending you both all my love and warmest wishes for a lifetime of happiness together."

Close with a quote or saying that is meaningful to you or the couple.

Include a final piece of advice or encouragement for the couple, such as "Remember to always communicate and work as a team. You've got this!"

End with a simple but warm message, such as "Wishing you both a beautiful and love-filled future together."
No matter what kind of warm close you decide to use, just make sure it's upbeat, sincere, and appropriate for the couple and your relationship with them. Your parting words should leave the newlyweds feeling loved, supported, and appreciated on their wedding day.
Conclusion
A good wedding message will be unique to the couple getting married, will come from the heart, and will be a joyous expression of congratulations on their marriage. A superb wedding message will begin with a heartfelt greeting, provide congratulations, relay a personal message, provide support, and close with a heartfelt farewell.
Just make sure that your message is short, upbeat, and appropriate for the setting. Whether in a card to the happy couple or a toast at the reception, your words have the power to elevate an already wonderful occasion. With some time and effort, you may write a wedding card that expresses your warm wishes for the happy couple and their new life together.